HOSTING MADE EASY
Be the best host you can be this year with our new Holiday Host bundles.
Toast the festive season with Zeero Sangiovese
Get the lowest price ever by the case - up to 55% OFF
Who Is Better Rhodes?
We're a group of curious, confident people changing the narrative around alcohol. Our carefully curated marketplace makes it easy to discover non-alcoholic and alcohol-free options that not only taste great, but align with your wellness goals.
Don't take our word for it
★★★★★

Love these! Ordering them again! Excellent flavor combos. Calories per flavor totally worth it! That perfect mix of not too sweet and still providing a great taste that's not watered down.

Rachel F.
★★★★★

What fun it is to receive a box of hand selected mocktail options to try! Just starting on my sober journey this made it feel fun...

Shauna B.
★★★★★

This is the #1 Bubbly I have found that is so delicious and my go to for all Celebrations....by far the BEST Non-Alcoholic Bubbly out there. Love IT!:)

Donna j S.
★★★★★

Really enjoyable, not too sweet as some are. I had to keep checking the bottle as I couldn't believe it was Alcohol Free.

Laura Z
★★★★★

Grüvi was delicious and refreshing. I poured it 50/50 with sparkling cider over a big square I've cube and it was absolutely lovely. Would buy again!

Andrea F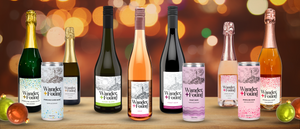 Best in class Non-Alcoholic Wines
Wander + Found
Our exclusive W+F Wines light up any celebration, or satisfy with any meal.
SHOP W+F NOW
We make choosing easier with our curated collections
Explore our best selling wine collections.
E-Gift cards available
Need something last minute? Not sure of their tastes? A gift card is the perfect option.